We understand that your dog is a member of your family, and we take that very seriously.
When you walk through the doors of Spire Canine Orthopedics, or when the Spire team walks through the doors of your hospital, your dog becomes a part of our family too. Our entire team is committed to providing the most compassionate and expert care possible to achieve the best outcome for your dog.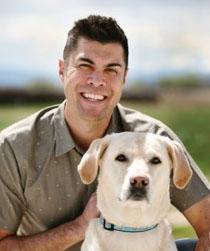 Excellent care requires a team approach. For this reason, we work in close partnership with our patients' primary veterinarians to determine the best course of treatment. Within the surgery center, our services include consultations, diagnostics such as X-rays, arthroscopy, surgical and nonsurgical treatments, and follow-up appointments. When our mobile team travels to general practices, we work alongside our colleagues and their teams to attain the absolute best outcomes for the animals we care for. It is our goal that every patient and every owner walks away from their experience with Spire feeling better than when they arrived.
ACVS Board-Certified
A veterinary surgeon is a veterinarian who has undergone additional training after veterinary school to become a specialist. This training consists of a minimum of a one-year internship followed by a three-year residency program that meets guidelines established by the American College of Veterinary Surgeons (ACVS).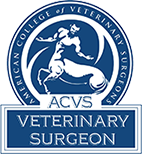 Residency training requires specific caseload minimums and training requirements in addition to publication of scientific research in a scientific journal. Applicants must then pass a rigorous examination to become board certified. Specialists are called "Diplomates of the American College of Veterinary Surgeons" or "board-certified surgeons."
All veterinarians may perform surgery as part of their veterinary practice. However, difficult cases may be best managed by a specialist. Board-certified surgeons work closely with the owner and the primary veterinarian before and after surgery in a team approach to ensure continuity of care for your animal. Specialized surgery also generally requires specialized equipment not usually available at a primary care veterinary hospital.
Following surgery and any postoperative follow-up care, the primary veterinarian resumes ongoing care of the animal. Veterinary surgeons provide the very best in surgical care. They also act as a resource for your primary veterinarian by providing consultations on difficult or unusual cases. With their advanced training, these specialists offer expertise that ensures the best possible outcome for the animal and animal owner.