Our team is the heart of Spire, and we take our commitment to your dog's care extremely seriously. We hold ourselves and each other to the highest standards of excellence in our work, with compassion and kindness as our core values. We understand that every dog—and every dog's medical condition—is unique. And we believe in treating each patient with the veterinary knowledge, respect, and concern we would show our own pet.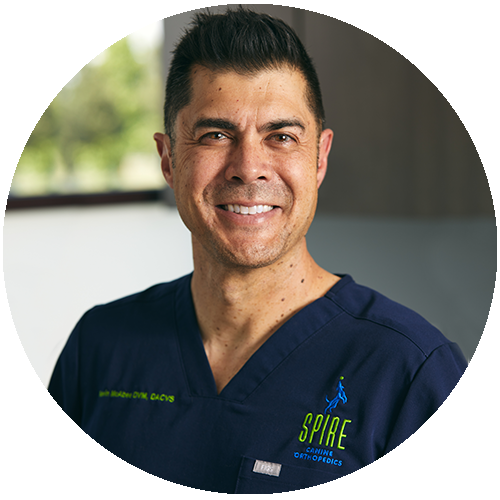 Dr. Kevin McAbee
DVM, Colorado State University College of Veterinary Medicine and Biomedical Sciences DACVS, Board-Certified Surgeon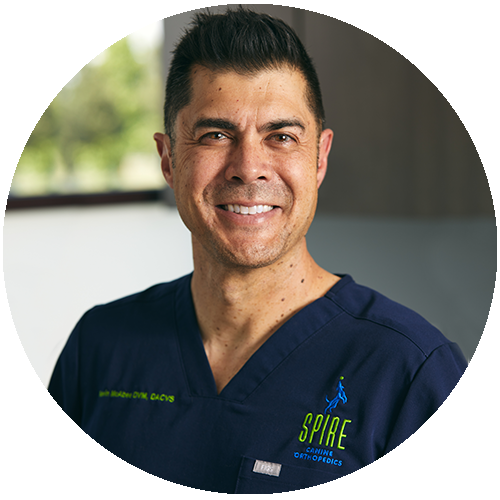 Originally from California, Dr. McAbee came to CSU for veterinary school after graduating from Cal Poly-San Luis Obispo. He completed general and surgical internships in Los Angeles and Florida, followed by a three-year residency and then a fellowship at the Animal Medical Center in New York City before starting his career as a surgeon in Colorado. Aside from a short stint in Michigan, he has been a practicing surgeon along the Front Range since 2005, heading up busy specialty practices before focusing on primarily orthopedics. In 2015, he founded Spire Veterinary Surgery, and then Spire Canine Orthopedics in 2023.
Dr. McAbee is an expert in minimally invasive orthopedic surgery such as arthroscopy and regularly teaches courses on this topic. He has performed thousands of TPLOs during his career and looks forward to helping many more dogs through the surgery center. He has a deep commitment to giving back to his profession, teaching courses to student surgeons, acting as a consultant to Arthrex Vet Systems, and serving on the medical advisory board of Fujifilm Medical Imaging.
When he's not busy being a surgeon, Dr. McAbee enjoys spending time with his family, having a meal with good friends, and watching any sport imaginable—from football to water polo to NASCAR. He and his wife have three busy children who are growing up too fast, a lazy goldendoodle named Posey, and a crazy kitty named Phoebe.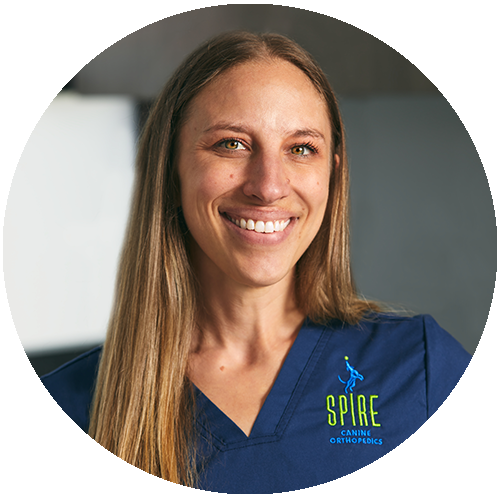 Erica Seymour
Practice Manager and Registered Veterinary Technician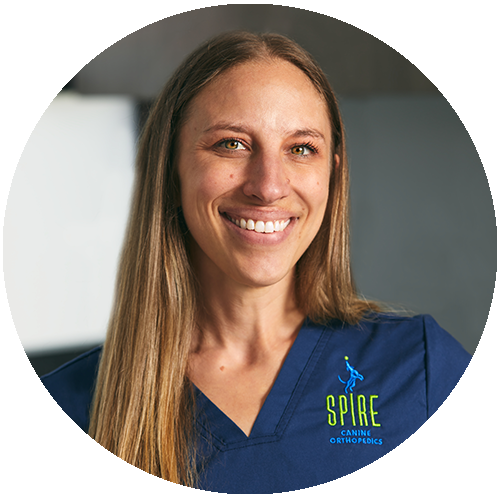 Erica grew up in New Mexico and Minnesota and graduated from Argosy University-Twin Cities with her associate degree in veterinary technology. She moved to Fort Collins in 2013 and spent the first eight years of her veterinary career in a general practice setting, focusing on anesthesia, patient and client care, pain control, and physical therapy. Looking for a new challenge, Erica joined Spire Veterinary Surgery in the summer of 2019.
Caring, passionate, and meticulous, Erica has proven to be a wonderful addition to our surgical team. As our practice manager for Spire Canine Orthopedics, Erica is looking forward to bringing her passion for both animals and humans together. She plans to focus on veterinary business management and hopes to become a certified veterinary practice manager (CVPM) in the future.
Outside of work, Erica, her husband Zach, and their 12-year-old boxer-mix Sabian love living the typical Colorado lifestyle--hiking, lake life, fishing, camping, skiing, and otherwise exploring the great outdoors. Aside from exploring, you'll find Erica enjoying good music, yoga, cooking & baking, comedy shows, DIY projects, or coloring.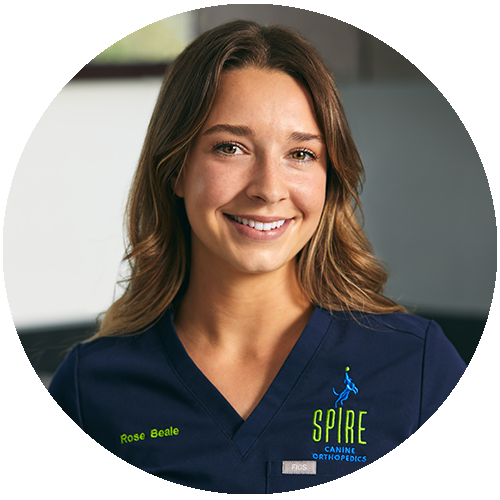 Rose Beale
Veterinary Assistant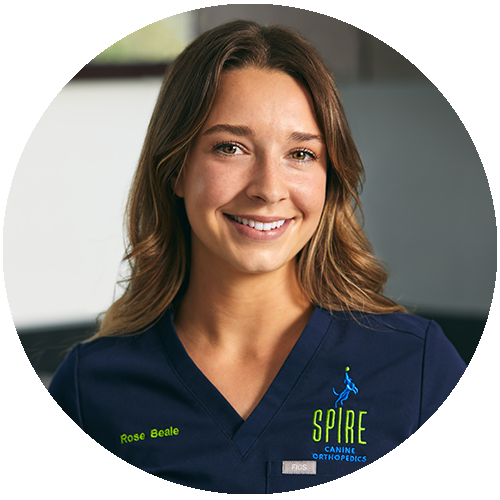 Originally from Seattle, Rose moved to Colorado in 2017 to complete her Bachelor of Science degree in Equine Science from CSU. While Rose has always had a passion for working with horses, after graduation she decided to explore small animal medicine and discovered a newfound love for the challenges and rewards of canine orthopedic medicine. Rose was extremely excited to join the Spire team in the Spring of 2023 and has loved every second of her work with Spire Canine Orthopedics.
When she isn't working Rose spends her time skiing, hiking with her dog Wombie, playing board games, and doing Zoom cooking nights with her family. Rose cannot wait to meet you and your furry friends at Spire Canine Orthopedics.