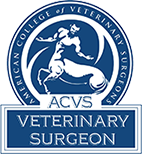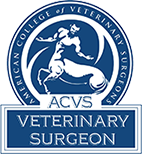 With their advanced training, board-certified veterinary surgeons are specialists, offering the expertise that ensures the best possible outcome for the animal and animal owner.
A veterinary surgeon is a veterinarian who has undergone additional training after veterinary school in order to become a specialist. This training consists of a minimum of a 1-year internship followed by a 3-year residency program that meets guidelines established by the American College of Veterinary Surgeons (ACVS).
Residency training requires specific caseload minimums and training requirements in addition to publication of scientific research in a scientific journal. Applicants must then pass a rigorous examination in order to become board certified. Specialists are called "Diplomates of the American College of Veterinary Surgeons" or "board-certified surgeons."
All veterinarians may perform surgery as part of their veterinary practice. However, difficult cases may be best managed by a specialist. Board-certified surgeons work closely with the owner and the primary veterinarian before and after surgery in a team approach to ensure continuity of care for your animal. Specialized surgery also generally requires specialized equipment not usually available at a primary care veterinary hospital.
Following surgery and any postoperative follow-up care, the primary veterinarian resumes ongoing care of the animal. Veterinary surgeons are dedicated to providing the very best in surgical care. They also act as a resource for your primary veterinarian by providing consultations on difficult or unusual cases.
Learn More